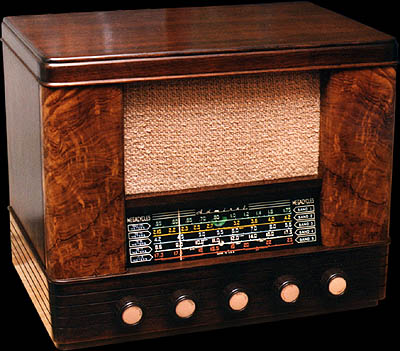 Admiral 7T09-X, ca. 1948

Tube complement: 6SG7 RF, 6SA7 mixer/oscillator, 6SK7 IF, 6SQ7 detector, 6V6 audio output, 5Y3 rectifier, 6U5 tuning eye.

Approximately 17 inches / 43 cm wide. Those beautiful wide vertical bars on each side of the front have a paper finish. Instead of using expensive real wood veneer, that burled-wood look is just a picture printed on paper, glued over a cheap base wood and covered with lacquer.

This radio is unusual, and somewhat of a mystery. It's an odd hybrid of a mass-produced "consumer" style radio and a shortwave communications receiver. It's like a communications receiver in that it has a chassis-mounted fuse, a "twist lock" AC power connector, and five bands with slide-rule tuning. It's like a regular broadcast radio because it has no BFO, bandspread or other communications-receiver features. Its exact date of manufacture is unknown. I'm only guessing 1948, primarily because its schematic is in the 1949 Riders volume.