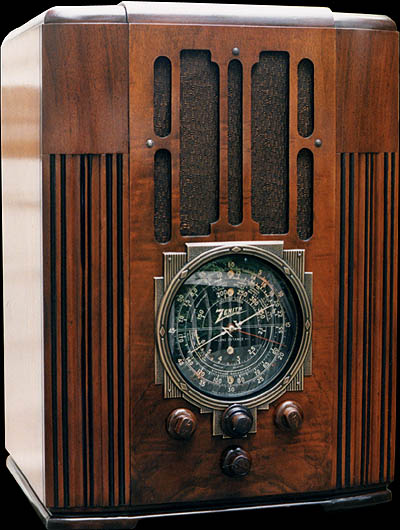 Zenith 9-A-30-A, 1936

Tube complement: 6K7G RF, 6A8G mixer/oscillator, 6K7G IF, 6H6 detector, 6C5G 1st audio, 6C5G 2nd audio, (2) 6F6G audio output, 5Y3G rectifier.

Approximately 22-1/8 inches / 56 cm tall.

This radio uses the same cabinet as the model 9-S-30. Electrically, in addition to the fourth band and multi-voltage power supply, the 9-A-30-A has other changes and improvements over the 9-S-30. There's a bunch of extra bypass capacitors scattered around the circuitry. There's a wirewound balance potentiometer in the cathode circuit of the push-pull audio output stage. Almost all the resistors are covered with insulating tubing, and there's a phono jack and switch on the rear of the chassis.