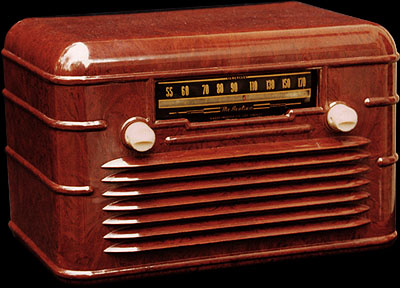 Radio Process Co. "The Aeolian," ca. 1946

Tube complement: 6SA7 mixer/oscillator, 6SK7 IF, 6SQ7 detector, 6K6GT audio output, 6X5GT rectifier.

Approx. 10-3/8 inches / 26 cm wide.

Since I found no information about this radio or this company in my references, I had to guess its year of manufacture. The radio provided the following clues to help me:
It uses tubes that are common in radios made in just a few pre- and post-WWII years.
The radio uses an electrodynamic (has field coil) speaker instead of a permanent-magnet one. Electrodynamic speakers were almost completely abandoned by 1946. I'm aware of only a couple of other postwar designs that used 'em.
The radio uses a built-in loop antenna. Loop antennas became common by 1940 or so; they were almost universally used after WWII.
The type of plastic insulation on the loop antenna wire, and the appearance of the underchassis resistors, are postwar.
The overall construction quality is rather cheap, and evidences little attention to detail—this is a general characteristic of postwar, not prewar, radios.
Based on all of the above, my intuition says 1946.

Some of the original paper condensers (which I replaced—they were leaky) were labeled "Tuffies, McMullen Products, Santa Monica." Radio from LA, condensers from Santa Monica—I was humming Beach Boys tunes and dreaming of wide palm-tree-lined boulevards while working on it.

Another interesting thing about this radio is that it's an AC-only (transformer powered) set, not the AC-DC (transformerless) type that one would expect in a small Bakelite table radio. My Packard Bell 5FP is also AC-only, and it's also a California radio. Perhaps Los Angeles or other California cities prohibited the relatively hazardous AC-DC sets.

Oh, and yet another thing about this radio: When I received it, it had the wrong knobs. (I know this because they were marked with wrong functions, such as tone or radio/phono. Besides, they looked wrong in terms of style and color.) Since I have no reference information about this radio to help me determine what the original knobs look like, I just selected some knobs from my "junkbox" that I thought looked good on this radio.