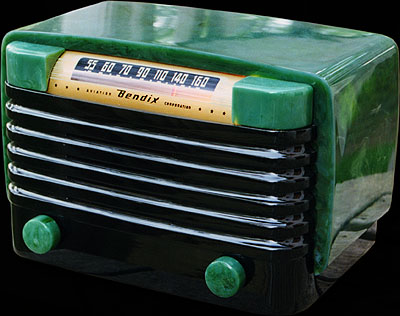 Bendix 526C, 1946

Tube complement: 12SA7 mixer/oscillator, 12SK7 IF, 12SQ7 detector, 50L6GT audio output, 35Z5GT rectifier. There is another version of this radio, model 526MC, that uses the seven-pin-miniature All American Five tube complement, instead of octal tubes.

Approximately 10-7/8 inches / 276 mm wide.

This radio's cabinet is made of four separate pieces: the green top-and-sides piece, the two small green "ears" on either side of the dial scale, and the black front-and-bottom piece. They're all screwed together from the inside. The green Catalin plastic is so translucent, some of the lighter spots visible on the side in the photo above are actually due to the radio's pilot light shining through. Even the black Catalin part of the cabinet has a sublime richness and depth.