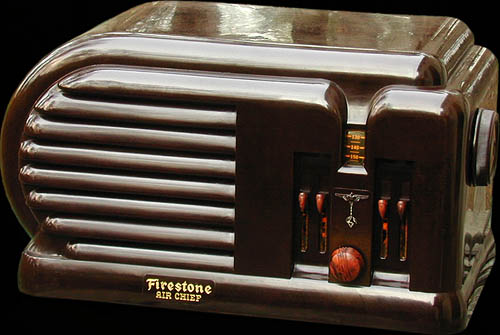 Firestone Air Chief S-7426-1, 1939

Tube complement: 6A8G mixer/oscillator, 6J7G detector, 25L6G audio output, 25Z6G rectifier, L55B ballast.

Approximately 13-1/4 inches / 337 mm wide, including the tuning knob on the side.

This radio is a four-tube (not counting the ballast) superheterodyne. The design is unusual: There's no IF stage, although there's regeneration, at the IF frequency, around the 6J7G detector stage. Also, this set has an early, primitive type of volume control, with the potentiometer between antenna and cathode of the first stage, and the wiper grounded. This is the same type of volume control used in the Corona 203. The G-E F-40 is also a four-tube superhet, but the design is different. An actual IF amplifier stage is used, and the performance is much better.