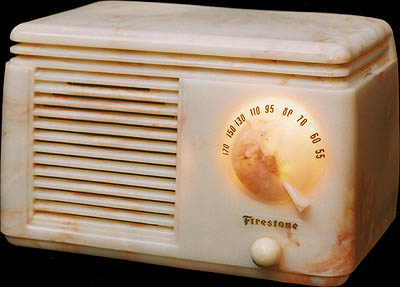 Firestone Air Chief S-7402-1, 1939

Approximately 8-1/8 inches / 206 mm wide.

This radio's case is made from an unusual plastic. It looks like what collectors call "Beetle," which is one manufacturer's name for this whitish plastic with colors swirled in. This plastic is like Beetle, except it's much more transparent, and less white. Because it's so clear, it also has depth, in a manner similar to some Catalin plastics. One can look down into the thickness of the plastic material and see variegations that are below the surface. Because the material is so translucent, the manufacturer painted the inside of the cabinet white to improve its appearance from the outside, something that's unnecessary to do with the more opaque type of Beetle plastic. Maybe that look of depth was why this particular plastic was used, even though its use incurred the additional expense of painting the cabinet's inside. Imagine that.

Tube complement: 12A8GT mixer/oscillator, 12K7GT IF, 12Q7GT detector, 35L6GT audio output, 35Z5GT rectifier.