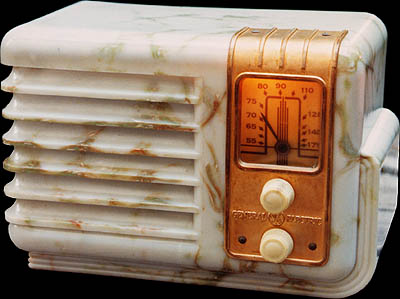 General Electric GD-520, 1939

Approximately 7-1/2 inches / 19 cm wide.

The mold that made this cabinet turned out to be very prolific. I've seen many different radios with many different brand names made in this radio's image. None is quite an equal to this Beetle plastic, brass-escutcheoned beauty, though.

Tube complement: 6A8GT mixer/oscillator, 6K7GT IF, 6Q7GT detector, 25L6GT AF output, 25Z6GT rectifier.

Just three years after introducing the "superior" metal tubes with great fanfare, G-E had totally abandoned their use, in this design at least. Flash! I can't blame G-E for the lack of metal tubes in this radio. Research reveals that this radio was actually made for G-E by Admiral (actually, Continental Radio & Television Co., which made the Admiral radios). C.R.&T.C. also used this chassis in one of their own, the Admiral model 158-5J (see Machine Age to Jet Age vol. II, p.52), and in my Tiny Tim radio.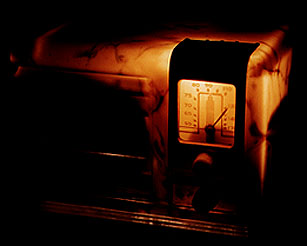 In complete darkness, the magnificent translucence of the Beetle plastic cabinet is revealed.