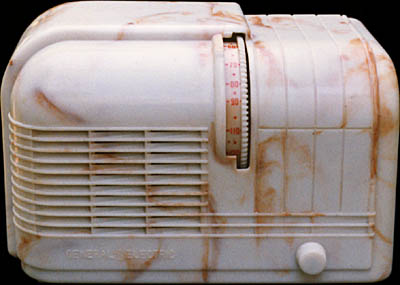 General Electric H-501X, 1940

Tube complement: 12A8GT mixer/oscillator, 12SK7 IF, 12SQ7 detector, 35L6GT audio output, 35Z5GT rectifier.

Approximately 8-3/4 inches / 222 mm wide.

The suffix X in the model number stands for Onyx, and refers to the cabinet color. Nowadays we (or at least I) think of Onyx as meaning a very dark color, or black. But it also means "having bands of different colors ... translucent or milky quartz," thus describing the appearance of this Beetle plastic cabinet.




General Electric H-520, 1940

This one is of a brown Bakelite-like plastic that's very heavily mottled with different shades of brown and tan. This particular model has pushbuttons ("Feathertouch Tuning" keys) for easy favorite-station selection.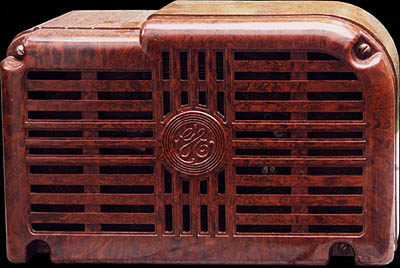 The H-520 has a beautiful molded plastic back, which encloses the loop antenna.


The "H-500" series was available in many different versions. First, G-E made 'em in three colors: oak (mottled brown), onyx (Beetle plastic), and ivory. Second, they came with and without pushbuttons. Third, they were available with and without a built-in loop antenna (the G-E "Beam-a-Scope"). Fourth, there was a UL-approved version, or a relatively unsafe one with the AC line connected directly to the chassis. The UL-approved version was probably sold only in those markets, such as Los Angeles, where local codes required it. (There were two UL-approved versions, the later of which had a 'U' suffix rather than an odd-numbered model designation.) I don't know the model numbers of versions without pushbuttons but with the built-in loop antenna.