Kenwood S-599 speaker, R-599 receiver, T-599 transmitter

The only vacuum tubes used in these units are in the transmitter: 12BY7 driver, and two S2001s (equivalent to type 6146) in the final amplifier stage.

Made by Trio of Japan, the 599 series was first imported into the U.S., under the American sounding name of Kenwood, by Henry Radio (a California ham radio equipment dealer and manufacturer) in 1970. By 1975, Trio had set up its own U.S. office to import and market its equipment.

Improved versions of the receiver and the transmitter, the R-599A and T-599A, followed the original 599 twins. In a gross ergonomics oversight, the original T-599 had its often-used mic gain and carrier level adjustments mounted inside the radio. This is one of the things that got fixed in the T-599A, and this improvement was retrofitted (by a previous owner) into the T-599 above: mic gain and carrier level controls have been mounted on the front panel and fitted with matching knobs.

The final Kenwood Twins incarnation, the D line consisting of the R-599D receiver and T-599D transmitter, was introduced in 1976 and sold until early 1979. I believe the color scheme was the only thing that changed from A to D.

My particular D-line, below, was originally purchased in June 1978.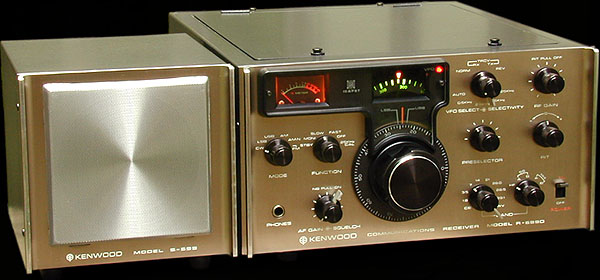 Above, the S-599 speaker and R-599D receiver. (Kenwood changed the color scheme of the S-599 to match the "champagne-anodized" front panels of the D-line receiver and transmitter but did not, apparently, change the model number of the speaker from S-599 to S-599D.)

Below: The matching Kenwood T-599D transmitter.