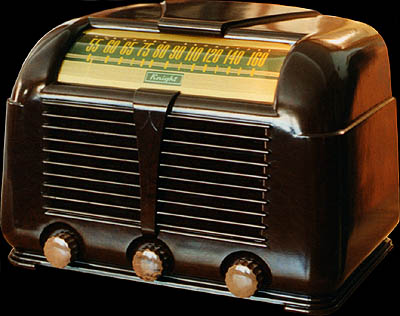 Knight 6C-225, 1947

Tube complement: 14A7 RF, 14Q7 mixer/oscillator, 14A7 IF, 14B6 detector, 35A5 audio output, 35Y4 rectifier.

This radio has the deluxe type of AC/DC circuit, with an added RF stage for extra signal-pulling power. Unusual for an AC/DC set, it has a tone control, although it's just a two-position switch with the choices being tinny-and-strident, or muffled.

Approximately 12 inches / 30 cm wide. In the words of the discriminating collector from whom I acquired this beauty, it has "trim details, plump shoulders and an ample stern." I couldn't have said it better.