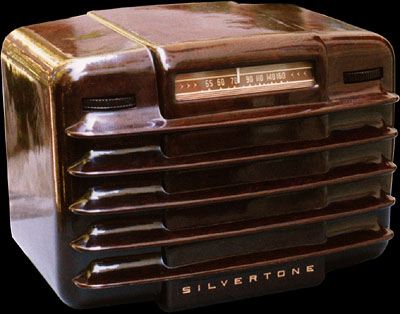 Silvertone 6405, 1940

Tube complement: 12A8GT mixer/oscillator, 12K7GT IF, 12Q7GT detector, 35L6GT audio output, 35Z5GT rectifier.

The two thumbwheel dials, one for on-off-volume and one for tuning, are located just to the left and right of the slide-rule dial. A strange thing about this radio: Its designers went to the trouble to include a pilot lamp, but didn't provide any means for its light to escape the cabinet. In a completely dark room, a bit of light can be seen around the edges of the opaque dial scale, but under normal conditions, the lamp's illumination is invisible. The slightly later Silvertone 3251 has a small hole in the center of the dial scale, which corrects the problem.

This is another radio with an upside-down chassis. Since dust couldn't settle on it over the years and foster corrosion, the chassis is clean and shiny, just like the day it left the factory.



From the 1940 Sears & Roebuck Spring/Summer catalog.