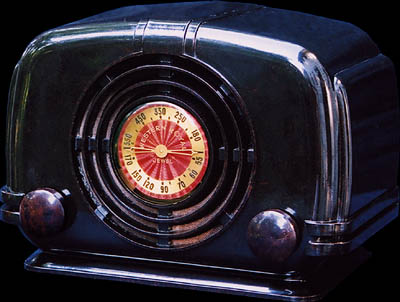 Western Royal "Jewel," ca. 1941

Approximately eight inches / 203 mm wide. When I first got this radio, I thought its cabinet was of black Bakelite, and was puzzled by the brown-and-black mottled knobs, which are usually used with brown-and-black mottled cabinets. Closer examination revealed that the cabinet is actually brown-and-black mottled, but very darkly; you have to take it out into the sun to discern its subtle brownness.

Tube complement: 12SA7 mixer/oscillator, 12SK7GT IF, 12SQ7 detector, 50L6GT audio output, 35Z5GT rectifier.




Most collector reference books date this radio to 1946 or 1947. The service information for its Coronado-branded sibling, model 43-8160, appears in a Sams Photofact released January 1947. But, take a look at this chassis—it sure looks pre-WWII to me, with its dog-bone body-end-dot color coded resistors. It looks just like other Belmont-made chassis from the 1940-1942 period in other respects too. And, the audio output transformer is stamped "7 41," which I take to mean that it was manufactured in July 1941 or the 7th week of 1941. So I'm going to go out on a limb here and surmise that Belmont made this radio both before and after WWII as they did so many other models, and that my particular radio is a pre-WWII example.