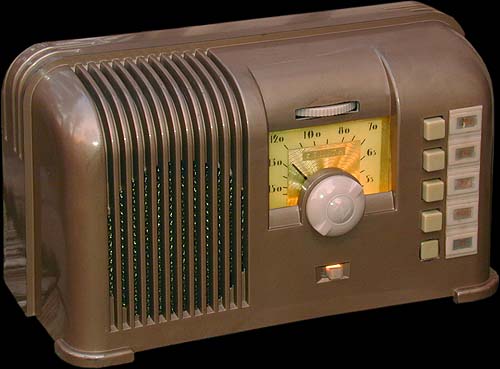 Zenith 6D414, 1940

Tube complement: 12A8G mixer/oscillator, 12K7G IF, 12Q7G detector, 35L6G audio output, 35Z5G rectifier, 100-77 ballast.

Approximately 11-3/8 inches / 29 cm wide.

I'm puzzled by the bronze metallic painted finish on this set. A Zenith brochure says that this model was available in mahogany, ivory and grey-green finishes. (Thanks to fellow collector Paul Turney, who noticed that Zenith's brochure copy for a couple of other models says "grey and green," not "grey-green." Thus he suggests that Zenith probably meant that this model was available in mahogany, ivory, grey and green colors.) I assume that "mahogany" is unpainted brown Bakelite; and this radio surely isn't ivory or green. But could it be grey? The overspray on the inside of the cabinet (which presumably has not been exposed to light over the years and has changed color little, if at all) is the same color as the outside of this cabinet. And the paint job is definitely very old, and looks factory original. So either someone found a way to call this tan-bronze color grey, or the '414 was also available in this additional color not mentioned in the brochure.

Update: Since writing the paragraph above, I've seen two additional copies of this model in this very same color. One radio was for sale on the Internet (I lost control and bought it) and the other was for sale at a swapmeet (I was able, this time, to keep my acquisitive urges in check). So there truly can be no doubt that it's a factory-original paint job.