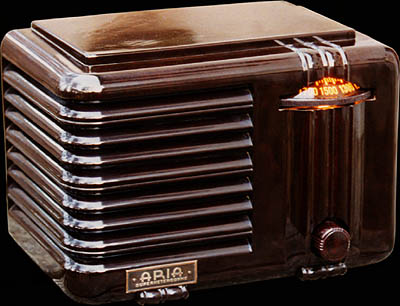 Aria 137-UT-214-A, ca. 1939

Tube complement: 6K8 mixer/oscillator, 6J7 detector, 25L6 audio output, 25Z6 rectifier, L55B ballast.

This small (approximately 8 inches / 20 cm wide) radio manages to be cute and classy at the same time. I like that column-like thing going on between the horizontal thumbwheel tuning control and the cute-as-a-button volume knob below, and the way the column contrasts with the sweeping horizontal louvers to the left. The "Aria Superheterodyne" metal label is nice, too.

Despite the label, its circuit is barely a superheterodyne. It has no IF stage, but uses regeneration at the IF frequency around the detector. Like the similar circuit in my Firestone S-7426-1, it works poorly. Much better performing circuits using only four tubes were being produced at this time, like the TRF circuit in the Silvertone 6402, for example.

This Aria seems to have been made by Sentinel, which also made similar radios under their own brand. Its schematic is found in Riders under the Sentinel model 137U. Aria was a store brand, like Silvertone (Sears), Airline (Montgomery Ward), Aircastle (Spiegel), etc. Research leads me to believe that Aria radios were sold in Allied Stores (New York), or maybe in Weiboldt, a Chicago-area chain. (Does anyone remember? If so, please write. My e-mail address is on the Help page.) Apparently both chains are long gone.