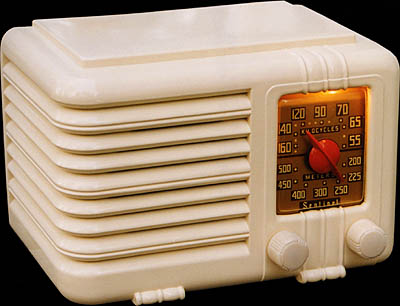 Sentinel 226-I, 1941

Tube complement: 12SA7 mixer/oscillator, 12SK7 IF, 12SQ7 detector, 50L6GT audio output, 35Z5GT rectifier.

This is a cute, small (approximately 8 inches / 20 cm wide) radio, with a cabinet clearly related to the Aria 137-UT-214-A. It's got a pretty shape, with a nice stepped top and some good decorative elements, but its main feature is that big bright red dial pointer.

This 1941 radio is one of only a few in my collection that are still operating on their original electrolytic filter capacitors. In fact, all this radio's parts are original except for the audio output and rectifier tubes. The originals were just plum tuckered out, so I replaced 'em.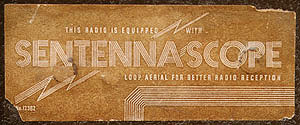 This label is attached to the molded cardboard back, which bulges out in the rear to accommodate the thick early loop antenna inside.